16.09.21
Interview with Jennifer Joseph
We spoke with Jennifer Joseph about her role in Paradise at the Olivier, and what Clean Break means to her.
Tell us about Paradise?
Paradise, even to say the name is paradise! Everything about it: the way that Rae Smith (set & costume designer) has done the set especially, as soon as we went on there, we felt the paradise that we've all been talking about in the rehearsal room.
It is so different because it's a Greek myth but it's very urban. For me it's the language and the rhyming, and to know that for Kae Tempest (writer) their natural sense is rapping and spoken word. So, it is a glory, it is paradise to be part of something that really feels like paradise!
What were rehearsals like?
I'm not gonna lie, when you first walk into rehearsals and you really get a load of the script you think to yourself, how am I gonna fit into this? But it was just absolutely glorious to see during the rehearsal period how we all could bounce off each other.
One of the most amazing things was when maybe we weren't saying our lines quite right, because we're still learning and you've got to be quick in order to hear the rhythm that's underneath it all, and then Kae would jump up, say the lines or the section that we're reading and it just it blew us away. It's like "right everyone, fix up! Right that's it, say it again!" So, we kept on it, so that we got that same rhythm as if we were one person saying it. The word "chorus," you hear it, and you think movement and stylising but really it's one voice. If you're a true chorus, you become that one person. That was an absolute treat.
Do you think that was the most challenging part of rehearsals?
Yeah absolutely, because you want to hear the same rhythm that it's written in. You want to do honours and justice to the way that Kae has taken time out to marry those words and make them make sense, so you want to give that back. So, for me was quite challenging.
It sounds like a really nice company.
Yeah it really is. I mean obviously I was a bit shell-shocked when I got the part, and now I'm the one that runs around going "oh can I have your autograph!" I know that it doesn't look cool doing it when you're part of the company. So, I'm just going around asking them to sign my programme, as my own memento.
And when you recognise actors like Leslie Sharp and you think, wow am I worthy of being here? Can I sustain this stage that you've opened up for us? Do you know what I mean? So you know it's a beautiful challenge.
How did you feel when you first stepped on to the stage?
I felt like my soul had left my body and it wasn't actually me on the stage. I was actually looking down and looking at this person which was actually me on this stage. So that was one thing to get over. I've never been on the stage like the Olivier, let's face it, and the first time we went on Jeanette our voice coach asked each of us to deliver a line. So, everyone did theirs and I delivered mine and it caused the sense of "stop what the hell!" You know what I mean? It was overwhelming to be there.
I tried to explain to people that stage isn't the hard part for me, to project and all that, because I've been trained to talk to that man up on that roof as opposed to that person just there. I can't help that, but I do find that in TV they say Jen that's really great but could you just bring it down somewhat and now that's more of a challenge.
And you know at Clean Break we're not good at bringing it down, we like bigger!
And that's what I love! That's what I'm saying! My training comes from things like Clean Break because that's my first taste for theatre. It's because of Clean Break that I was able to then get taught by Phyllida Lloyd and Harriet Walter and know that I have to give the same as they do on stage even though they're seasoned to it.
So, let's talk about Clean Break for a little bit …do you want to explain your relationship with Clean Break?
Now at this point in my life, I consider Clean Break my absolute haven of hearts. It picked me up as a broken person, put me back together, and put me back out in the world even better than I was the first time. That in itself is testimony.
I was able to study there—I mean even now you get a little bit of shaming because you didn't attend drama school—but actually I attended Clean Break so call it what you like but I had the creme de la creme of teaching. I had names that are so big out there that I couldn't have got better at drama school. Being at Clean Break also meant that I got more intimate teaching.
I remember Yolanda who taught me to speak Shakespeare for the first time. I was playing the Nurse in Romeo and Juliet with a Jamaican accent, don't play! Yolanda put a panel together for our exams and one of the panellists was a casting director for the Donmar at the time, but I don't think she ever imagined that she would be employing me so soon after something like that! She said to me that in the 30 odd years she'd been doing Shakespeare that's the best she'd ever heard the Nurse.
That's the thing about Clean Break we all care about each other and there's like real heart in everything.
Real heart, absolutely. In my first interview and remember this is on the back of one: just coming out of jail, and two: feeling like a child again. That even though I'd spent all this life and I've got kids and I've got a home, but I just couldn't find myself. When I found Clean Break, it was a complete safe haven. That first day when I walked in, I spoke with the two Jackies and I told them my story and I cried, and they reassured me and that was a turning point in my life. I never looked back after that. After feeling that I was allowed to be damaged, it was just about the joy now of rebuild.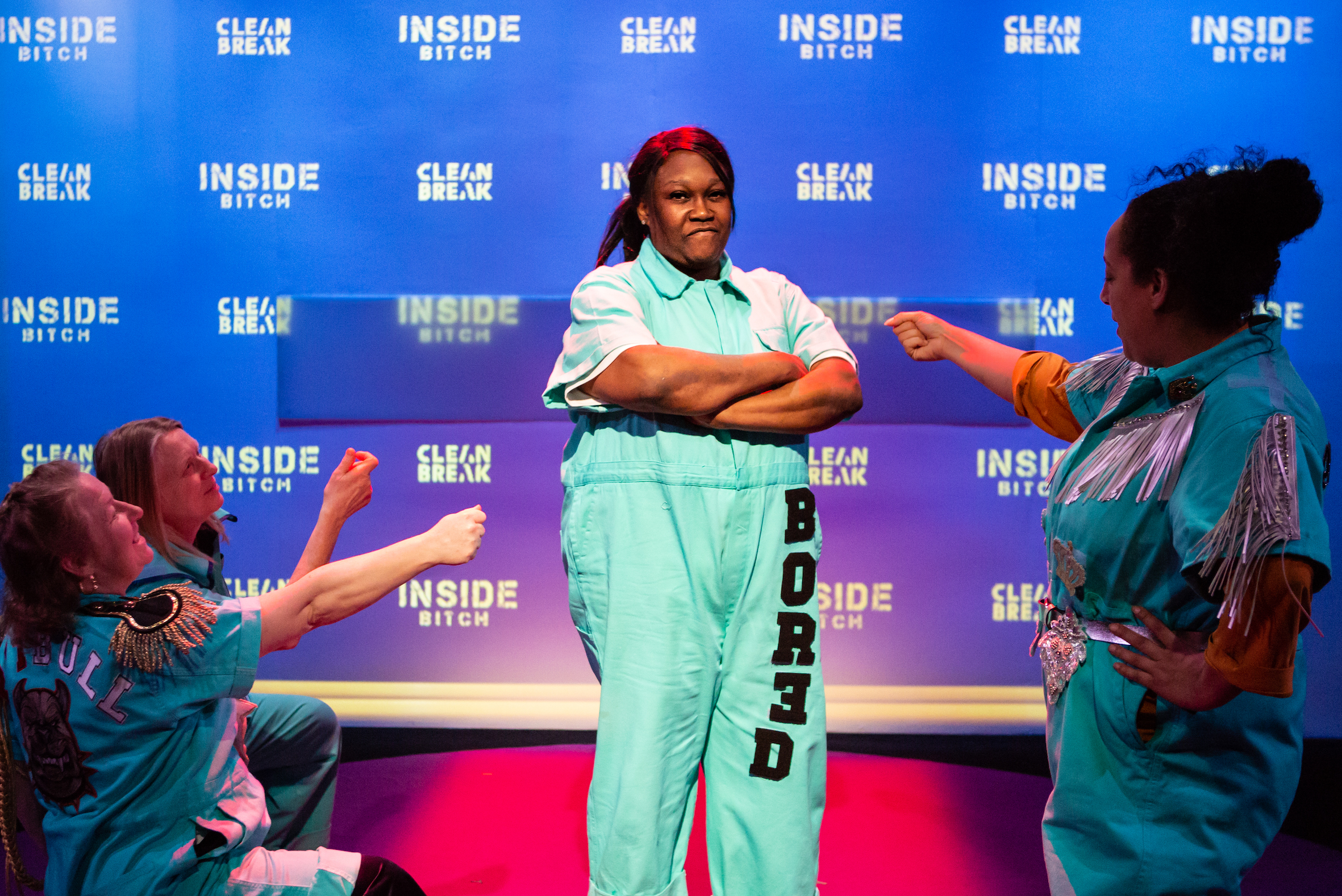 Now I can't even remember me not being a performer, it's part of who I am.
I think the sad thing for me I wish I'd heard about Clean Break sooner, when I was in prison and maybe I would have been more involved sooner. But as they say time's the master, nothing before the time yada yada. But prisons need to know about Clean Break because there's not a lot of girls that are going to come out from that sort of situation and have the time, the care, or the worry to be finding out about it. It was actually a friend of mine that introduced me.
You mentioned the Donmar, should we talk a little about the Donmar's Shakespeare Trilogy? When did that happen and how did that come about?
Phyllida Lloyd (director) decided she was going to do her first Shakespearean trilogy and because Shakespeare is so biased against women, her challenge was to make it an all-female cast and have women playing the roles we've been told we can't play. I don't know what she'd watched that day or year but then she wanted to place it inside prison. Which was a joy for me because Harriet, the Dame, is a Patron of Clean Break, so when Phyllida said she wanted all women but she wanted some authenticity towards it, Harriet introduced her to Clean Break and they set up a workshop with about eight or ten of us. I didn't really honestly have a clue what I was doing, I just saw it as a great experience no matter what happens at the end of it. So when Anna (Herrmann) or Lucy (Perman), said "Jen, the Donmar have been on and they want you." For a minute, you know, it doesn't register, you're looking at it like, Who? What? When it started to resonate, I felt my legs sort of give way, I felt sort of dizzy and like confused but joyous. That made me one of the original members from 2012 right through to 2016.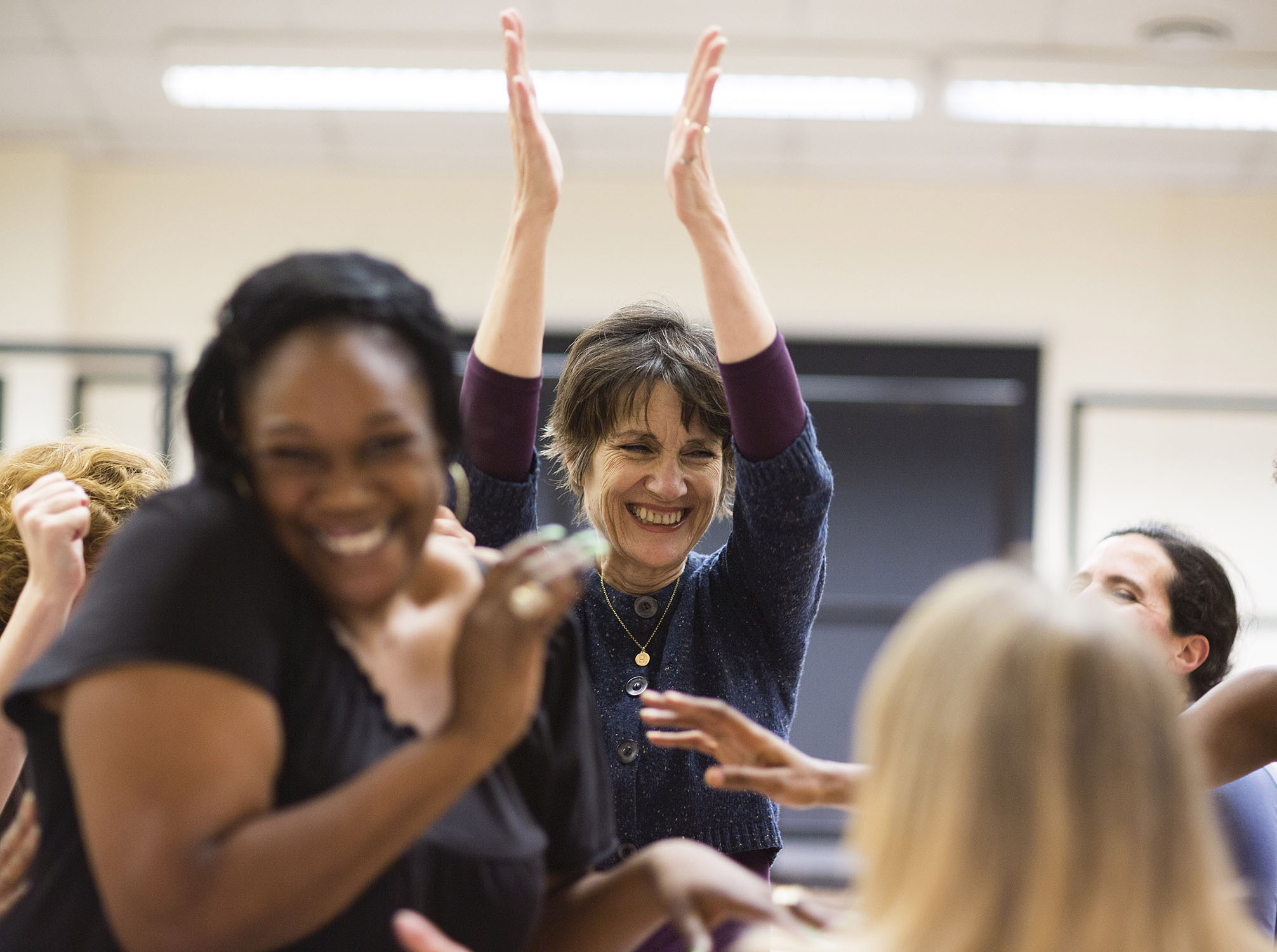 Do you have any great memories you can share?
I really do, and I'll tell you why the memories are even more great because at the end of each run, the Julius Caesar, the Henry and The Tempest, I didn't get to go to America with the transfer. So, it was bittersweet but I couldn't afford to let the joy of being part of something so humongous and so great then be dragged down with the fact of disappointment caused by biased, small minded people.
One of my favourite things you've done was Inside Bitch at the Royal Court
Inside Bitch wow what a journey that was. That was a different experience all together. We didn't know who we were, what we were doing, where we were going. What this is about? What's it for? Why do you want me to do this? We didn't have a clue we just went in there and we trusted. I think this is what's important as well, we trusted Clean Break, you know what I mean?
Two writers, Stacy Gregg and Deborah Pearson, wanted to do a written piece and get some stories from people of lived experience. So, Terri Ann, Jade, Lucy and I went in, and we were just sitting around, and it became so comfortable that we were just having conversations, just talking about our experiences because we'd all been there. So, they went off about a year and a half later we were called back. They had given us these scripts and they just wanted us to say them, but we became frustrated because I was saying "nobody talks like this! Where'd you get this writing from?" and they explained, "well it's actually yourselves, all we did was put them into transcript."
And we were like "oh nobody talks like… oh no… I talk like that! I feel like a twit now! Because I'm the one who actually talks like!"
So… we took it on the chin, and then we started to embrace it. Then when you read it feels real because it's actually our own personal stories told in a way that is was a far cry different from how TV and places like that portray that kind of situation.
Then we're getting into it, and we're doing it. Deborah and Stacy wanted me to go into this box to tell this hella intimate story that I thought we were just having a conversation about. So, I became a little bit frustrated because I didn't understand. When I got the understanding and the realisation of what this meant when you put it all together, it made for such a different feel.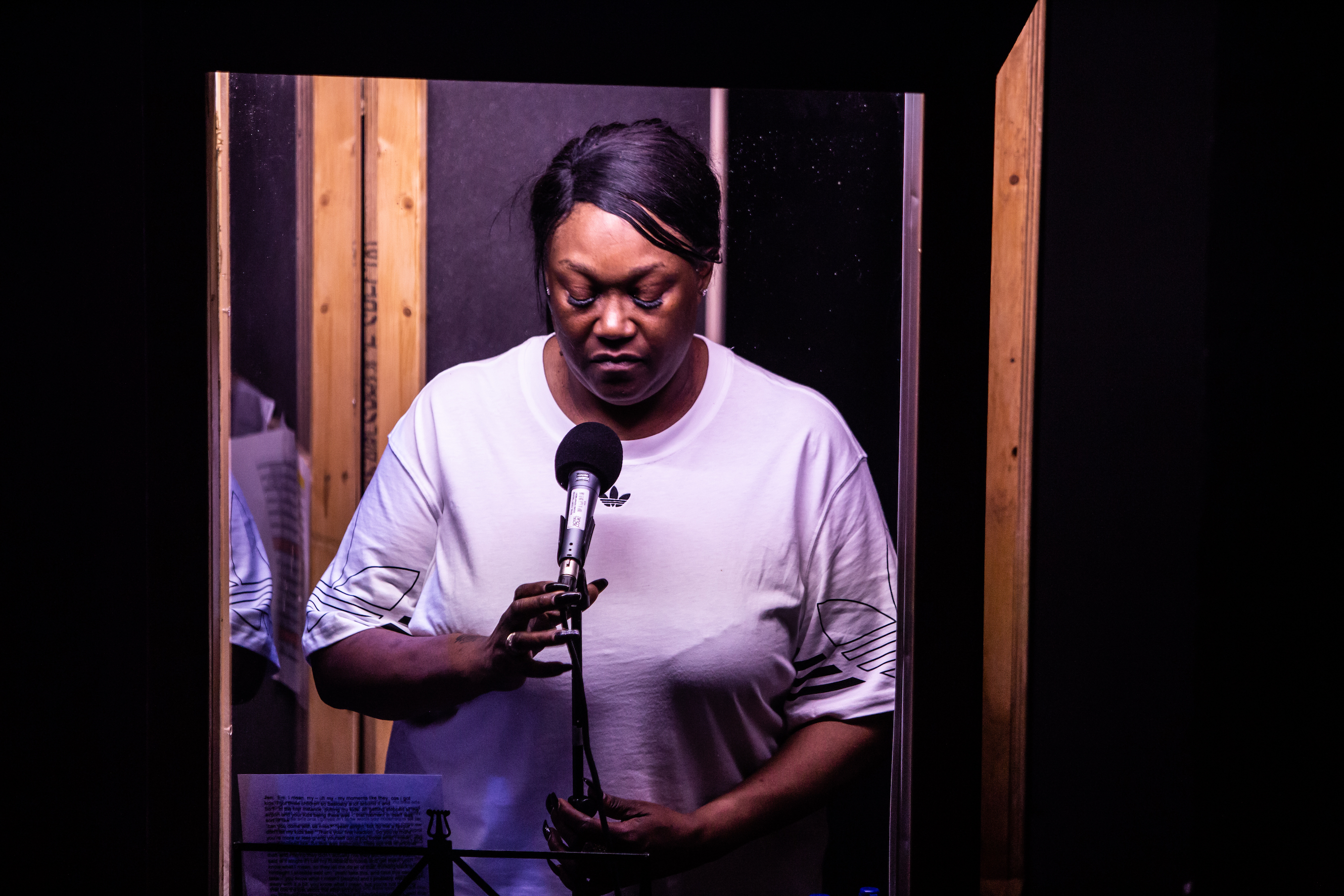 It was such a powerful piece because everyone wanted to be your mate when you were watching it, and it was so fun and funny, and then suddenly it was like bang, it really caught you off guard.
Yeah, it was so powerful and that's good. It was powerful being in it too because, well, I'm not saying going to prison is a forgettable thing, but my kids came to see it and it wasn't until I come out the box and the realisation of that whole situation hit me. My 21-year-old son was sitting in the front row in the audience crying because they'd not thought about it for all these years. Then all of a sudden there it was: my mum was talking about it, very loudly in black and white. Not because they're ashamed, it's just that they've not thought about it. My daughter who's older than him, you could see a makeup stream down her face. In that moment, luckily Deborah and Stacy are so good they allowed us to be who we needed to be in that play, so when I came out the box there's no way I could have just carried on without approaching my kids. Everybody noticed, but then it was a bit of a talker because everyone wanted to know whether it was part of the play or not, so they felt like they got the best treat of a play to see the embrace of me and my children after that moment of me coming out that box telling that story.
I mean that's as real life as theatre gets, and as you say, you're not forgetting about it, but your life is so transformed in that moment, from what you are talking about to you being an actor standing on the stage of the Royal Court, to now standing on the stage of the Olivier.
Yeah exactly and like the journey that we've just spoken about, I thought Donmar was as big as it got and it just kept getting bigger and bigger and bigger. I can only give eternal everlasting thanks to Clean Break because they were the start of loving me, wanting me, helping me, fixing me, and allowing me to be me.
Well I think that's quite a good place to end, but before we do now that you're nearly finished your run, apart from having a very well earned rest, what are you going to do? What's next for Jen Jo?
I don't even know if a rest will come! I've got the best agent in the world, and she is on it. So, I appreciate a rest, but if a rest don't come I'm still not going to complain.
I went through an audition this morning and I've got one tomorrow. I can only hope and pray to get them because that, for me, would be a nice next step.