13.07.20
Write 2 Connect
We are a community. We are all connected.
Earlier this year, Clean Break and It's Not Your Birthday But… joined together to launch Write 2 Connect, a letter writing project connecting women through the prison walls with women in the community.
At the end of the project, Artist and Filmmaker Chuck Lowry worked with our Members to create a film to celebrate Write 2 Connect and the words of comfort, hope and inspiration shared from women to women. The film was originally created for Agenda and MIND's #womensidebyside conference.
About Write 2 Connect
There are currently 3,424 women in prison (as of 24 April 2020), many of whom are locked in their cells for 23 hours a day and whose visits, which can be a vital lifeline, have been suspended to stem the spread of the virus. This project has been devised in response to Covid19, and our desire to reach out to some of the most vulnerable in our society at this time.
For two weeks in May 2020, women from every corner of the UK and from all walks of life sent letters with words of inspiration, hope and solidarity to women in prison. The letters were about finding comfort in words and nature, things that inspired them and words of connection and solidarity. They all shared something personal and offered hope--a gift which everyone can afford, and which can remind us in difficult moments like the one we currently face, that we are connected, we are part of a wider community and we are valued.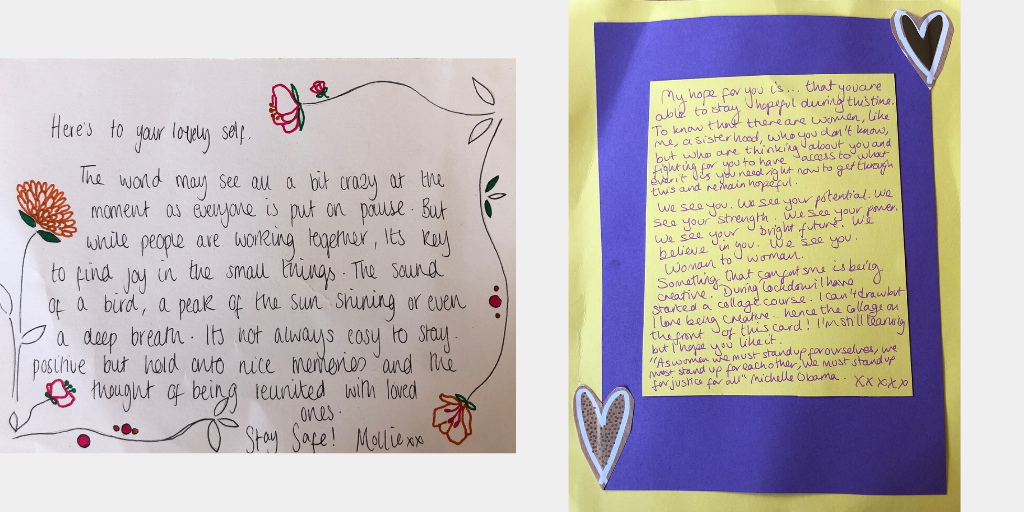 Over 200 letters were delivered to HMP Downview. The women in HMP Downview then wrote their own letters in response which were passed on to women accessing services at women's centres.
If you would like read some more of the letters from the project please click on this link