17.12.21
Alfred Fagon Awards 2021
Samantha McNeil, Clean Break's Volunteer Manager, named as one one 25 Black Champions of Theatre
On Friday 3 December the Clean Break team were lucky to attend the annual Alfred Fagon Awards at the National Theatre, celebrating Black excellence in the British theatre industry.
As this was the 25th anniversary of the awards, 25 Black theatre practitioners who don't often take centre stage were recognised for their 'talent, dedication, drive and collaborative spirit.' Samantha McNeil, Clean Break's Volunteer Manager was nominated by our Joint Artistic Director, Anna Herrmann for bringing so much dedication and passion to her work at Clean Break for over 20 years. To our delight, Samantha was selected by the board.
"Samantha established and now manages a vibrant programme of volunteering both for our Members and for women in the community. This has grown under her tenure to a rich and diverse programme of volunteering across the year and in all areas of company activity.
Each volunteer is welcomed into Clean Break and supported by Sammy to contribute and to benefit from their time here. She builds rapport and celebrates when former volunteers succeed in finding paid work in the industry, which many do" - Anna Herrmann, Joint Artistic Director of Clean Break.
The Alfred Fagon Award ceremony was a wonderful celebration, and the Clean Break team were excited to attend in the iconic Lyttelton Theatre. To acknowledge the achievements of the 25 Black Champions of Theatre, the audience gave a huge round of applause – of course we cheered especially loudly for Samantha!
During the ceremony, it was wonderful to see three extremely talented Black playwrights be awarded for their work. Diana Nneka Atuona was the recipient of the Roland Rees Bursary, and Chakira Alin was the inaugural winner of the Mustapha Matura Award and Mentoring Programme. The 2021 Alfred Fagon Award was won by the incredible Mojisola Adebayo with her play Family Tree, which there was a reading of after the ceremony.
"It was a very magical day at the National Theatre, one that I will not forget for a lifetime. To be honoured in such a way is a privilege, I am so deeply moved and grateful for the recognition for my services to volunteering, theatre and the arts, and especially to my fellow Black Champions of Theatre 2021. To be amongst amazing individuals, meeting some of you on the day was so moving, empowering and delightful, and not forgetting the love and respect shared all round, it truly was jubilant and joyful day.
Thank you to the organisers for putting together a memorable event." - Samantha McNeil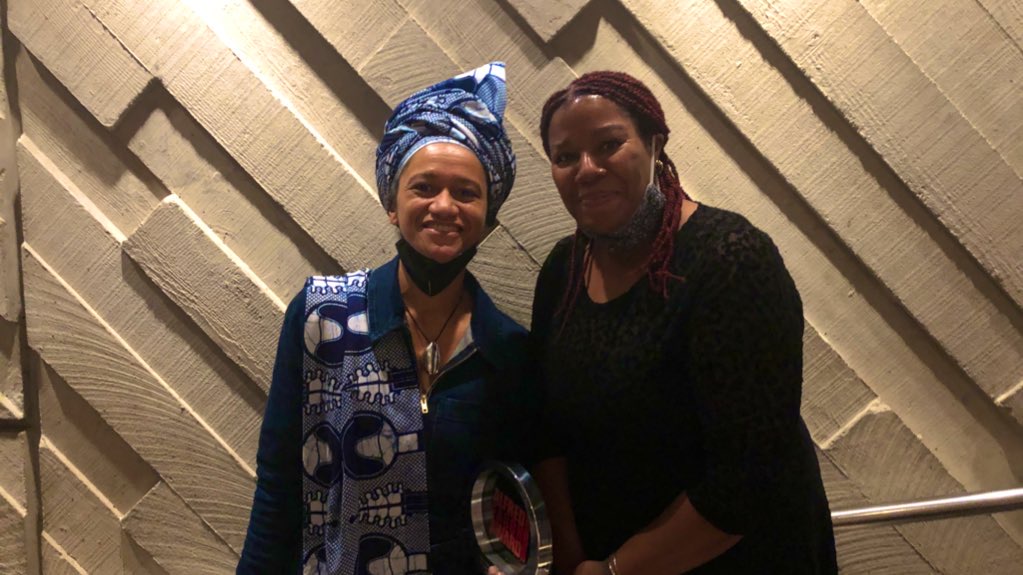 Recognising Samantha's work in developing our volunteer programme at Clean Break is significant. Because of Samantha, volunteering at Clean Break is a very special experience. We see the beauty and power in volunteering, and how mutually beneficial the relationships we have with our volunteers are.
We are so lucky to have incredible volunteers offering their time and skills across the organisation, from running workshops with our Members, to gardening and cooking tasty, nutritious lunches.
None of this would be possible without Samantha, who over time has built strong and meaningful links with our local communities, leading to truly enriching volunteering experiences.
"1998 was the turning point for me, I finally found my volunteering home at Clean Break. Looking back on my first day I was extremely nervous but equally excited to be assisting with the student support team in an admin role.
Over 20 years later, I still and always will have a huge commitment and passion for volunteering, I simply just love volunteering!" - Samantha McNeil
Photo credit for main image: Myah Jeffers/Alfred Fagon Award.